Our Address
Unit 3, 60-62 Waratah Way
Wodonga, VIC, 3690
Opening Hours
Monday: 8:00am – 6:00pm
Tuesday: 8:00am – 5:30pm
Wednesday: 9:00am – 6:00pm
Thursday: 8:00am – 5:30pm
Friday: 8:00am – 5:30pm
Weekends: Closed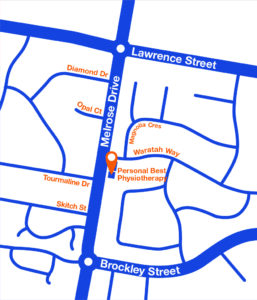 Directions
Personal Best Physiotherapy is located next to Wodonga West Medical Clinic, close to the corner of Melrose Drive and Waratah Way, Wodonga.
The best place to park is on Melrose Drive, right outside our practice!
Look for the big blue sign on the front wall of the building and our A-frame on the front lawn!